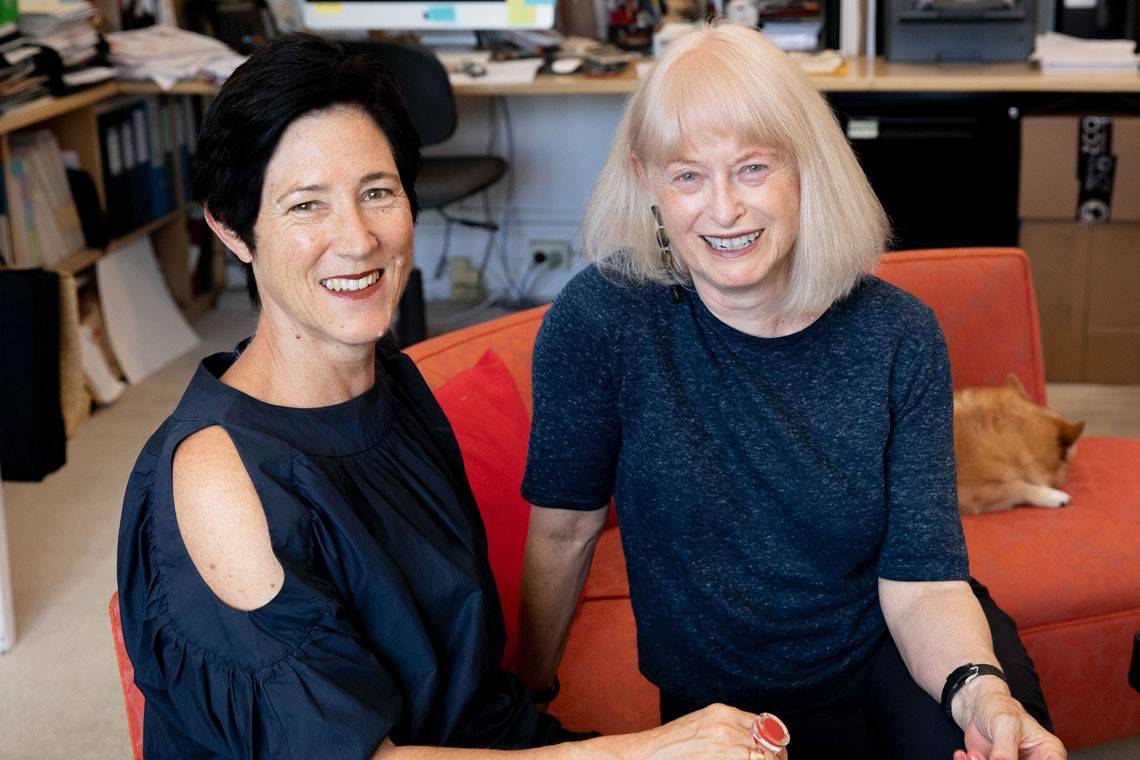 Gillian and Amanda had the opportunity to talk to Femeconomy about Corban & Blair's enduring business. This interview was first published by Femeconomy. Click here for the full interview.
HOW ARE CORBAN & BLAIR'S ENVIRONMENTAL CREDENTIALS MATCHING THE EXPECTATIONS OF ETHICAL CONSUMERS?
It has always been our purpose to create products that are designer, handmade, useful, relevant and valued, using recycled materials and collaborating with others.
In the beginning (1988) it involved imported recycled papers, but we continued to grow our philosophy, by using recycled and upcycled leather, carbon neutral frames, refillable, recycled carbon neutral paper pads, expanding our collaborations and supporting other creative talent in our Window Gallery. We also work with customers to challenge their assumptions about what makes gift and marketing items successful to ensure their message is valued and appreciated.
WHAT IS AN EXAMPLE OF ONE OF YOUR PRODUCTS THAT DELIVERS ON YOUR ENVIRONMENTAL PROMISE?
This journal is made from quality bonded recycled leather, combining 60% genuine leather fibres from the shoe and handbag industry. The refillable pad for the journals is made from 100% de-inked recycled post-consumer waste collected from offices throughout Australia, it is carbon neutral and made in the Maryvale Mill, in Victoria. Material: Recycled leather, A5 plain wire-bound recycled paper pad – 70 pages of 80gsm paper. Made in Australia.
HOW DO YOU HELP EMPATHETIC LEADERS COMMUNICATE THEIR KINDNESS, CONCERN AND THEIR CORE VALUES TO THEIR STAFF?
We question WHY and HOW and what their staff or clients would value as a thank you, acknowledgement or marketing item carrying a company message.
Will it be used, is it seen as value, can it personalised with a logo, monogram or personal note? How is thought and care communicated? How will it enhance the relationship and be seen as appreciation? All these elements need to be designed into the product. 
WHAT OUTCOMES HAVE YOU SEEN AS A RESULT OF COLLABORATING WITH AUSTRALIAN MANUFACTURERS?
A positive from COVID is that we questioned how we could make and deliver more in Australia. We imported quality recycled leather from Germany, found a local manufacturer. It has grown his business, increased employment and enabled faster turn-around and more personalization. It is wonderful to find new solutions when you have to. It was a risk we took, and it has opened up many new opportunities.
THE PROVENANCE OF YOUR PRODUCTS IS IMPORTANT TO YOU AS A BUSINESS AND TO YOUR CUSTOMERS.
Provence is important to the customers we work with. They want to understand the process, the designers, materials, the makers and collaborators. This has always been our aim. It is now a trend big companies are considering in their decision making.
HOW DOES YOUR SUPPLY CHAIN SHARE AND CELEBRATE AUSTRALIAN ARTISTS' STORIES?
As a creative company that relies on our next clever idea, we support and honor the work of other creatives. We do this by incorporating their designs into the linings of our products, as cover designs, provide cards in all items telling their story and how they can be contacted, by partnering with them to inspire new ideas and voice. This is communicated in all our marketing collateral, website and also via the window gallery which is located beside Lewisham Station, in Sydney.
ABOUT FEMECONOMY
Femeconomy is proudly a for profit social enterprise, role modelling female leadership and entrepreneurship. They believe that if you see it, you can be it. Corban & Blair is a Femeconomy Platinum Member.
You are the female economy.
Whether you are a female consumer, business owner or a woman in the workforce,
create gender equality by choosing female led businesses.
If you would like to know more or join Femeconomy, visit their website for more information.